Accessories
Solar Battery Charger
Features
We offer a 2 watt solar charger to help maintain your battery for dump trailers and tilt trailers. These work well in conjunction with our integrated battery charger. The panel is protected by a clear polyurethane coating that makes them extremely durable and weather proof. This panel has a 5 year limited warranty.
Cargo Tie Down Loops
Our utility trailers come with stake pockets standard but some users prefer to use tie-down loops that sit above the deck. These are great for strapping four wheelers, UTVs, motorcycles, mowers, and other cargo. The cargo tie-down loops are sold in pairs, with two pair (4 loops) being the most common.
Rated at 1000 lbs capacity
Loops angled at 45 degrees
Loops mounted on top of the outside frame
Standard on expanded metal and solid sides
Option code: -TD01 (2 loops), -TD02 (4 loops), -TD03 (6 loops), etc.
Bolt On Chain Rack
Features
Rack stores up to 5 chains
Bolts to c-channel behind risers and front gussets on PJ gooseneck trailers
Can be locked to help prevent theft
Can be mounted to driver or passenger side (two racks recommended for chains & boomers)
Fit FS, FD, LD, FY, LY, & SD models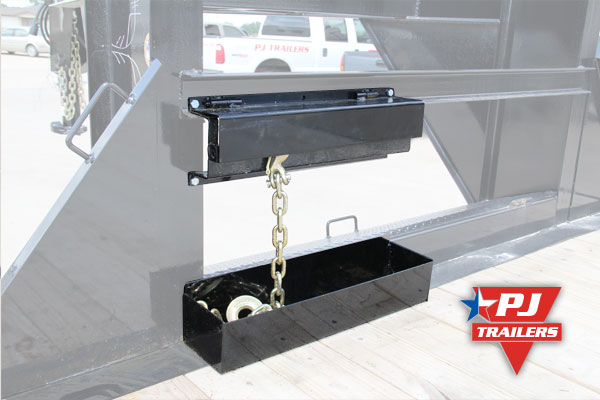 Wireless Remote For Trailers
Features
One of the most popular additions for dump trailers, tilt trailers, hydraulic jacks, and winches are wireless remotes. They make operating trailer hydraulics extremely convenient and fast. Our wireless remote is built by the same manufacturer as our hydraulic pump, so it is truly a "plug and play" installation.
To install, simply separate the quick connector from the corded controller and tee in the matching connectors from the wireless. Hook up the positive and negative power feeds to the battery and attach the external antenna to the outside of the toolbox and you are ready to go.
Easy plug and play installation
Equipped with an 15 amp fuse to protect against electrical overload
20 minute sleep program for safety, to prevent accidental operation or unauthorized use
Is not compatible with gravity down pumps or pumps with 4 way pendants
Bolt On Light Bar
Features
Do you want to load and unload your trailer at night? Check out our easy to install bolt-on light bar. This light bar features four (4) round utility lights that give you ample lighting and installs in around 30 minutes
PRE-WIRED & READY TO BOLT-ON - LIGHTS ARE INCLUDED
Fits on the channel cross-members between the risers on any PJ Gooseneck
Includes four (4) round utility lights in a shock proof rubber housing
Lights can be adjusted vertically and horizontally
1 1/2" mandrel bent round tube protective bar, lower frame built from 3/16" powder coated steel
Pre-wired with generous 9ft of wiring for simple two-wire installation (includes automotive inline fuse)
Toggle switch is mounted to light bar, for easy access from the trailer deck or ground
Lights are wired to junction box and powered by tow vehicle
Lights are connected with heat shrink butt connectors for protection and reliability (see photos)
Wiring for each light is protected by angle conduit (see photos)
Includes zinc plated hardware (nuts, washers, & bolts) and instructions for installation
Tools required for installation: Cordless Drill, 3/8" Drill Bit, 1/2" Wrench, Screwdriver, and Pliers
Light bar dimensions: 42" wide x 12.5" tall x 4" deep - Weight: 26 lbs
If ordered with a top riser toolbox the light bar must be mounted forward on the neck on top of the I-beam
Available Colors
Black: PJ Part: 170126
Red: PJ Part: 170129
Grey: PJ Part: 170130
White: PJ Part: 170131
Yellow: PJ Part: 170132
Stake Pocket Spare Tire Mount (Removable)
Features
Want to add a Spare Tire Mount to your PJ Trailer but don't want to weld it to the frame? Our stake pocket spare tire mount bolts on in less than a minute. If you like this accessory you might also like our Stake Pocket D-rings.
Fits PJ 5 on 5, 6 on 5.5, and 8 on 6.5 bolt patterns
Takes less than a minute to install
Made from 1/4" smooth plate and 2" x 2" rectangular tubing
Black Powder Coat Finish
Drive-in studs must be added depending on wheel size (Available at PJ Dealers or through PJ Parts.)
Fit most PJ Trailers with 5", 6", or 8" outside frame (channel or tube)
Not for use on dump trailer stake pockets
Fits the rear stake pocket on PJ utility trailers but doesn't fit the front due to interference with the tongue.
PJ Part Number: 160438
Stake Pocket D-rings (Adjustable)
Stake Pocket D-rings
Ever wish you could move your d-rings to different positions around your trailer depending what you were hauling? If so, our stake pocket d-rings make a great addition to any PJ Trailer with our 3 3/4" inside diameter stake pockets. You can simply slide the channel inside the stake pocket and insert the hitch pin.
Fits PJ 3 3/4" ID Stake Pockets
D-ring rated at 11,780 lbs
Can be moved in seconds with no tools
Black Powder Coat Finish
Includes hitch pin
Not for use on dump trailer stake pockets
Stake Pocket D-rings do not fit most C4 Carhauler or Utility Trailers (Use Utility D-ring instead)
PJ Part Number: 180080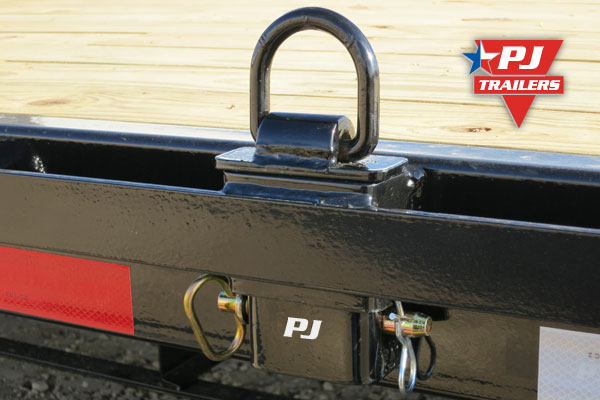 Utilty Stake Pocket D-ring
We have developed a utility trailer version of our extremely popular stake pocket d-rings. This version uses a lighter d-ring and has a notch cut to clear the wrap tongue on a PJ utility trailer and 4" Channel Carhauler.
Fits PJ utility trailers and 4" Channel Carhauler
Channel is notched to clear trailer tongue
D-ring rated at 2,000 lbs
Can be moved in seconds with no tools
Black Powder Coat Finish
Includes hitch pin
PJ Part Number: 180078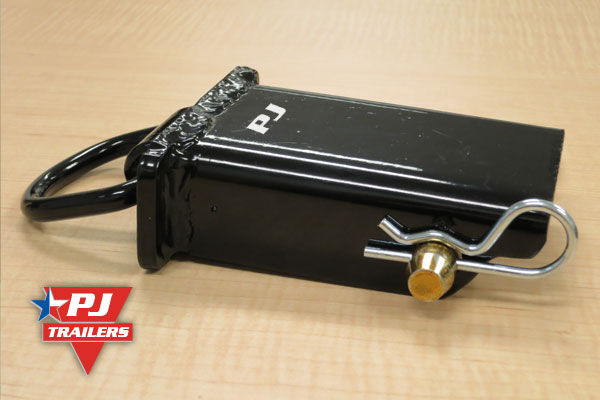 Product Features
Features
Our Bargman cold weather wiring harness keeps your trailer plug flexible and functional in the most extreme weather conditions.
7-way Bargman Plug with Dual Contacts
Operating temperature range -67°F to 221°F (-55°C to 105°C)
Available in 7 ft bumperpull and 10 ft gooseneck lengths
Easy to add to any PJ Trailer with a junction box
Part Numbers: 7 ft - 170293 & 10 ft - 170292
Stainless Steel Wheel Simulators
Features
One of the easiest ways to dress up your gooseneck trailer is by adding stainless steel wheel simulators (sometimes called chrome trailer wheel simulators). These simulators give you that high-end stainless steel look, without all the cost.
Stainless Steel Wheel Simulators with Over Lug Mounting
Made From Mirror Polished Stainless Steel
Fit Trailers with 16" 8 Lug Dual Disc Wheels
Easy Installation & Center Cap Removal
Simulators Do Not Interfere With Lug Nut Torque
Lifetime Limited Warranty
DOT Legal
Sold in sets of 4
PJ Part: chrome trailer wheel simulators